Paco's Mexican Restaurant Says Goodbye

After nearly 35 years in business, we have had to make the difficult decision to close our doors for good on October 15th. We have faced off against the stiff competition of the chain restaurants for as long as we can afford to, and now we must say "goodbye". We would like to thank all of our loyal customers and friends who have supported us through the years. We'd love it if you would stop in before we close for one last meal. The great staff who have been here since the beginning: Missy, Monica, Marianne, Donnie and Chico, would love to see your smiling faces one more time.
Thanks for 35 amazing years!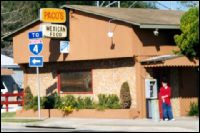 About Paco's Mexican Restaurant

Paco's Mexican Restaurant, a Winter Park tradition for nearly 35 years serves the freshest, finest tex mex food in Central Florida. We are not fast-food or a bar, but rather a family-friendly, relaxed restaurant with friendly servers, quality ingredients, and exceptional prices. Pacos is the oldest Mexican restaurant in Orlando. Zagat rated and voted the best cheese dip in the greater Orlando area. We serve a variety of different dishes, including our famous Deluxe Burrito and our homemade Guacamole.

Hours:
LUNCH
11:30 am to 2:30 pm Tuesday - Friday

DINNER
5:00 pm to 9:00 pm Tuesday - Thursday
5:00 pm to 10:00 pm Friday & Saturday

Closed every Sunday and Monday and most holidays including: New Year's Eve, New Year's Day, 4th of July, Thanksgiving Day, Christmas Eve, and Christmas Day.